An overview of my postcrossing activities from starting in 2006 till end of 2007:


New activities on map till October 2010!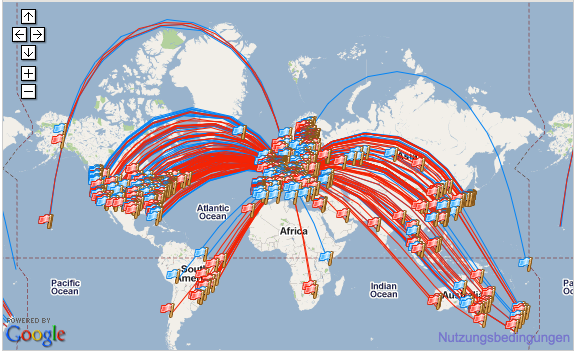 About me:
Hello everybody in the little world of postcard addicted people,

welcome to my always growing postcrossing blog and thanks for looking.


Since I started with this project => I've read an article in our daily post about postcrossing and signed in for the official site on 12.03.2006, I got really obsessed to exchange postcards with strangers!
My account at postcrossing.com: Morgaine
I'm 35 years old, married and I 've been living in east/southern part of Germany. This area is also called state of Bavaria with capital Munich.
But I'm originally from former state of GDR (German Democratic Republic) and moved to Upper Franconia for the love of my life.
He got also infected by the postcrossing virus

It's a bit like a contest who of us gets more cards

Since I can think about I've a love for other cultures and other countries. I always tried to get new contacts and see so much I can from abroad.
In 1990′s I have traveled a lot but for 8 years I haven't done any vacation in other countries and I really miss it so much!
That's why PC is so important to me. As I can't travel at this time I catch up the world and new impressions with cards and contacts through.
I'm quite pleased for each nice message what cheers me up some days I'm down and for so many people who taken their time to choose and
sent wonderful cards for my collection. I especially love map postcards.
My goal => TO HAVE THE MOST IMPRESSIVE AND BIGGEST MAP POSTCARD COLLECTION!
If you like to read some more informations about me you can look at my official profile as well.
I want to show you, all the beautiful and unique cards I received and will receive in future as well. Hope you have fun and like it too.
I try to update this site in time. If you want, contact me or leave a comment please!
Hugs, love and blessings to all of you!
Sincerly yours Morgaine

I'm always open to swap for new MAP cards! Here are JUST some of swap cards I can offer for! Please ask me for special ones, too! There are many which are not uploaded yet!